Whether at work or at home, Officer Tiffanie Hand's best friend is always by her side. Since 2016 her trusted partner has been seven-year-old Kylo, who was the UCLA Police Department's first K-9 officer in 20 years.  
Officer Hand is an 11-year veteran of UCPD, where she has helped to implement innovative programs that positively impact the UCLA community. When bicycle theft was on the rise, she helped create an initiative where GPS trackers were implanted onto bikes so the thieves could be located and taken into custody. Officer Hand was also responsible for the Respiratory Protection Program which supplies officers with gas masks so they can assist in case of a chemical leak on campus.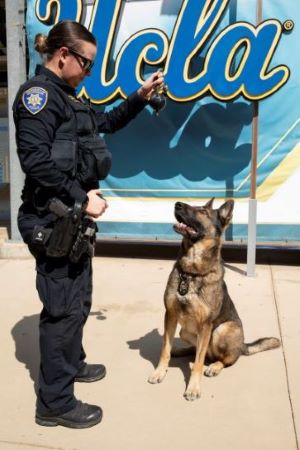 Reinstating the K-9 program was another idea that she spearheaded. With the many high-profile events UCLA hosts with dignitaries from all over the world, Officer Hand became concerned about the possibility of a terrorist attack. When it was suggested to her that a dog would be effective at detecting explosives, she became a very integral part of a three-year process to show the need for a K-9 which included writing a 20-page proposal. All that work paid off when Kylo arrived on a plane from Slovakia when he was 13-months old. 
"When I got him he didn't know how to sit, he didn't know how to lay down, he didn't know any commands," says Officer Hand. "So we kind of went through training together, and built each other up into this partnership that we have now."   
In addition to checking for explosives, Kylo can also search for missing people or suspects using his strong sense of smell. One of his other jobs is engaging with the campus community, where he steals the spotlight according to Officer Hand.   
"We will go to different departments and educate them on what the police department does. And everyone loves dogs, so as soon as they bring Kylo out, he's the star of the show." 
After Kylo's first year with the department, Officer Hand was able to demonstrate the need for another K-9, so Blake was brought on in 2019. There's discussion to expand the K-9 program even further with large events such as the 2028 Summer Olympics coming to UCLA.
For Officer Hand, being Kylo's handler is a 24/7 job, which she admits can be trying at times but is well worth it in the end.
"It can get very frustrating because we're always training, and there's always something to improve on. But when we get it together and we do the job we're supposed to do, it's the most rewarding thing you can ever experience."