The outstanding achievements of UCLA Police Department personnel along with the exemplary careers of three officers were celebrated at an awards ceremony at the UCLA Faculty Club on August 15, 2023. Interim Chief John Thomas presided over the proceedings along with the UCPD Command Staff who recognized the retirees and presented the awards.
Retiring Officers Philippe Briggs, Kevin Dodd, and Paul Kunstmann were celebrated for their dedicated years of service and commitment to keeping the UCLA campus safe. Each officer was presented with a Distinguished Service Commendation signed by all 10 police chiefs throughout the UC system.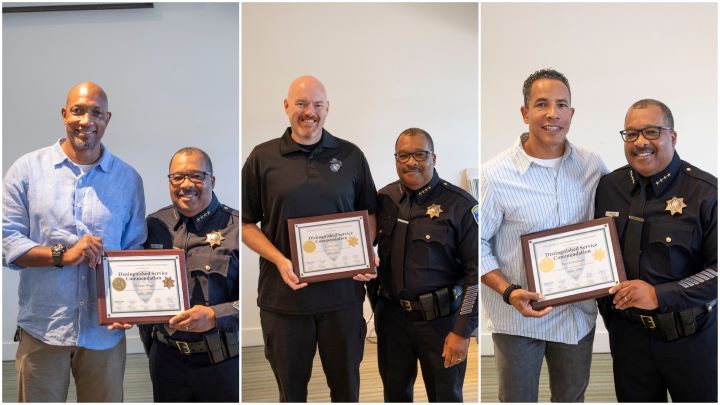 Officer Larissa Amezcua was presented with the 10851 Pin for recovering 14 stolen vehicles, including four "rolling" vehicles occupied by a driver. The award is named after California Vehicle Code 10851, and recognizes law enforcement officers who have made significant contributions to the recovery of stolen vehicles and the apprehension of auto theft suspects. She was also honored along with Officer Henry Salazar with the Mothers Against Drunk Driving (MADD) Award for their efforts in DUI enforcement.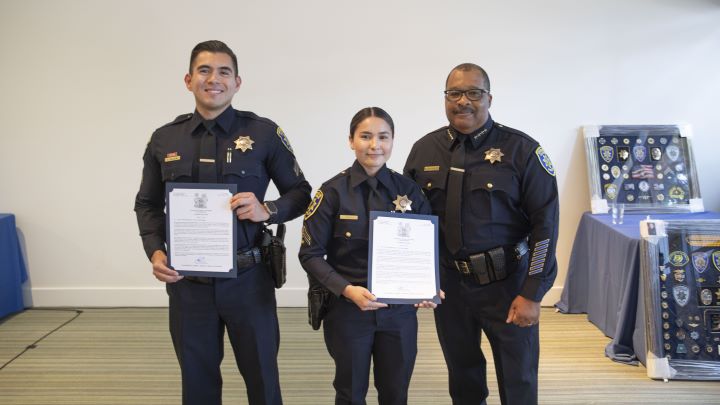 The Lifesaving Medal was awarded to personnel whose direct actions saved lives. Officers Vanessa Alvarado, Kenneth Embry, and Detective Joe Lara promptly responded to a report of a person experiencing a seizure in Parking Structure 7 after a UCLA Men's Basketball game at Pauley Pavilion. They performed CPR for approximately four minutes until UCLA Emergency Medical Services arrived, and provided support and comfort to the victim's wife and autistic daughter by accompanying them to the emergency room.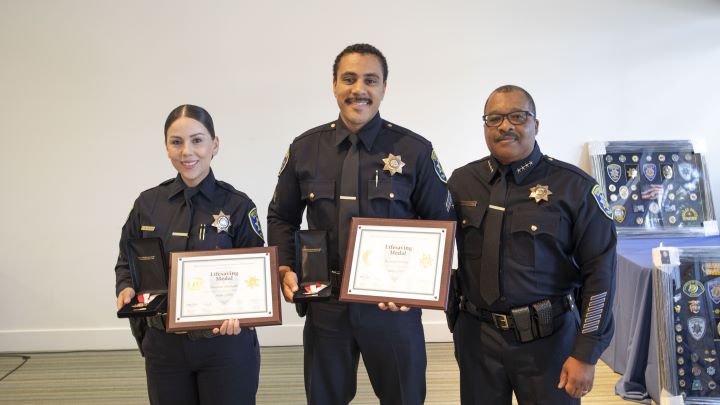 Officer Shamir Gonzalez was also presented with the Lifesaving Medal for preventing an individual from jumping off a freeway overpass. As he was riding his police motorcycle home on Interstate 10, just east of the 110 interchange, Officer Gonzalez spotted a distressed man sitting on the railing, staring at the 50-foot drop below. Working with a CHP officer, he firmly grasped the man's right arm and backpack, and successfully pulled him back to safety on the roadway.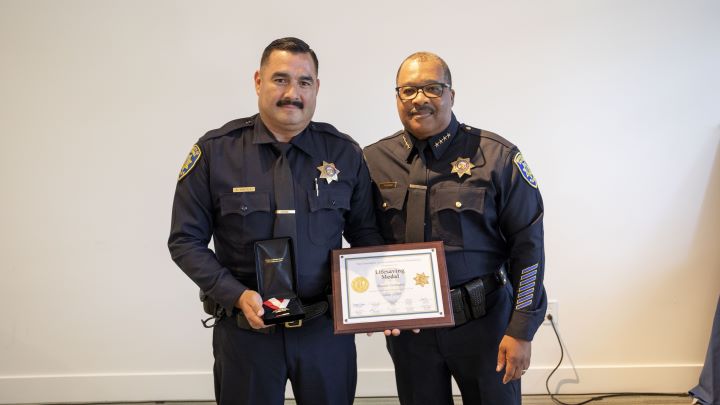 "The commonality of all these individuals was and is their unwavering commitment to serving and ensuring the safety of our great UCLA campus community," said Chief Thomas. "We not only thank them, but the families and others that help make their service even possible."