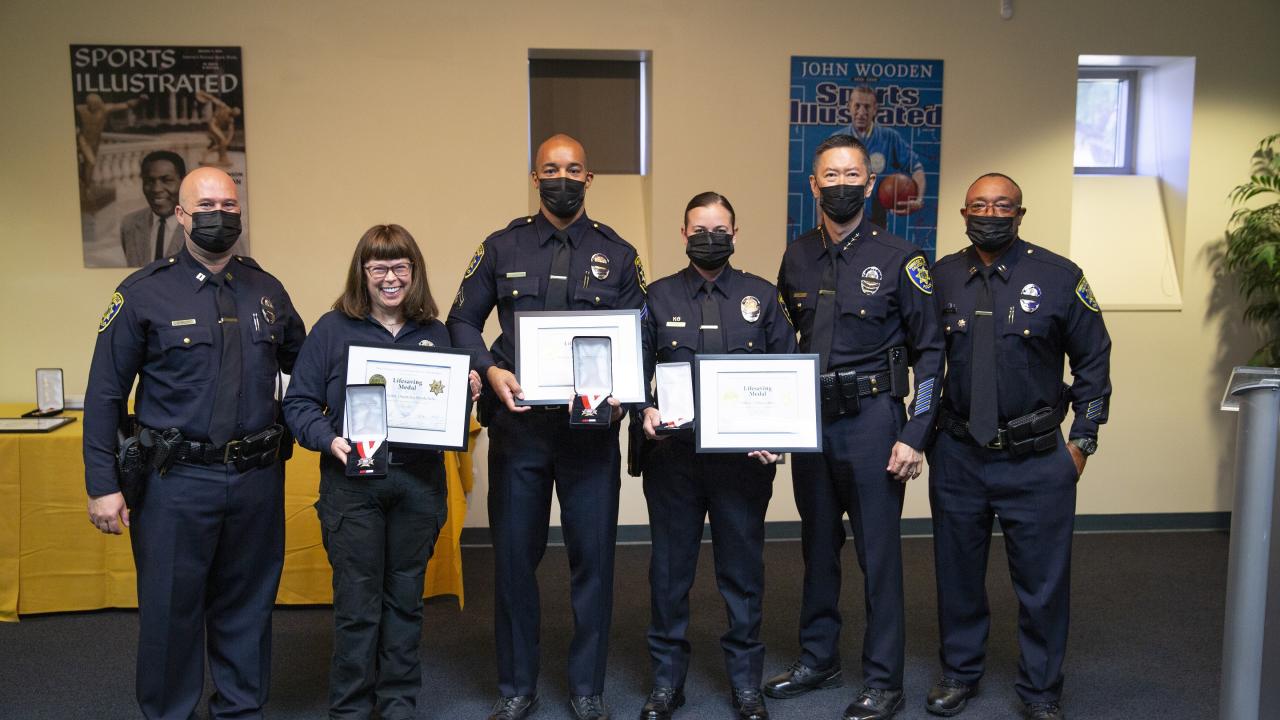 (Pictured above from left to right: Captain Scott Scheffler, Dispatcher Ronda Sells, Officer Jordan McIntire, Officer Tiffanie Hand, Chief Tony Lee, Captain Gawin Gibson) 
UCLA Police Department personnel whose direct actions saved lives were honored at the first-ever Lifesaving Medal Presentation at the J.D. Morgan Center on July 19, 2022. UCPD Chief Tony Lee presided over the ceremony, which recognized nine individuals for their extraordinary police work that saved the lives of four individuals over the past 18 months.
The officers and dispatchers were recognized for responding to incidents where people were in physical or mental distress. Their quick actions, creative thinking and compassion made it possible for the individuals to survive threatening situations and gain access to the resources they needed.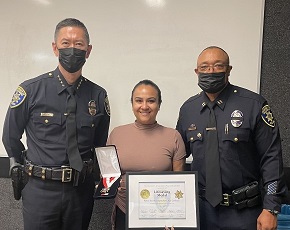 In one instance, officers Tiffanie Hand and Jordan McIntire worked with public safety dispatchers Erica Godinez and Ronda Sells to locate and provide medical assistance to an elderly male who had fallen inside his home near campus. The man had difficulty breathing and during his 911 call was unable to give his name and specific location to Dispatcher Sells. She stayed on the line with him while Dispatcher Godinez coordinated with officers on patrol. Using cell phone tower data to determine the general vicinity, Officer Hand suggested that Officer McIntire drive up and down Gayley Avenue with his siren on so that both the man and Dispatcher Sells could hear it.
This allowed the officers to locate the man's building. Once in the building, Officer McIntire clapped his hands, allowing Dispatcher Sells to hear the noise and guide the officers to the man's room. EMS personnel were then able to transfer him to the Ronald Reagan UCLA Medical Center for treatment. It was later discovered that he had been lying on the floor since the previous evening, suffering from a severe infection, and would have succumbed to his injuries if not for the outstanding team effort by the dispatchers and officers.  
The other recipients of the Lifesaving Medal were Officer Frank Bobo, Officer Robert Chavez, Officer Marcus Enfiedjian, Officer Larry Johnson, and Sergeant Jason Pak, all of whom played key roles in making safe people who were at risk of harming themselves.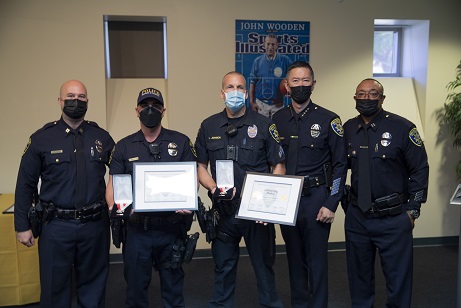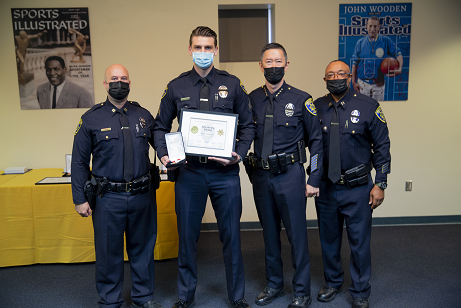 Administrative Vice Chancellor Michael Beck offered opening remarks at the ceremony, commending the honorees for their lifesaving actions. "This is a unique opportunity for us to celebrate the incredible heroism and commitment that each of the officers and staff of the police department make every single day," he said. "We don't highlight the amazing work that they do as frequently as we should." 
Besides the Lifesaving Medal, each honoree also received a certificate signed by all 10 police chiefs throughout the UC system. Read more about the remarkable actions taken by the medal recipients that saved lives.