Every member of the UCLA Police Department takes a different path to working in law enforcement. Just ask Lindsay Schirner, who went from teaching fifth grade to becoming our newest detective in less than four years.
As long as she can remember, Detective Schirner had always been interested in being a police officer, as her father was a deputy with the Los Angeles County Sheriff's Department for 32 years. But she decided to go into teaching because her husband, whom she met while studying at UCLA, is in the Air Force and she needed a job that she could do anywhere.
"When we got married he was stationed in New Mexico, so that's where I did my first year of teaching," says Detective Schirner. "But then once my husband and I settled back down in California, we decided that I would pursue what I had always wanted to, which was becoming a police officer."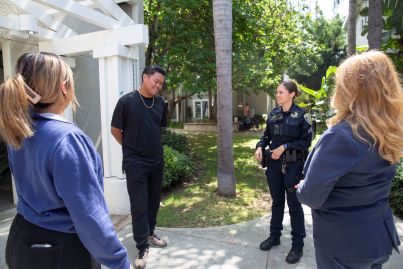 After graduating from the police academy in July of 2020, Detective Schirner immediately started as a patrol officer with UCLA PD. She later served as the University Apartments South lead officer, acting as a liaison between the police department and off-campus graduate student housing located around Palms and Culver City. But her career goal was to become a detective, and when a position opened up, she was able to fulfill a lifelong ambition.
"It's just always fascinated me, solving puzzles essentially and trying to help people in that way," says Detective Schirner. "So I'm thrilled that I have the opportunity now."
As the newest detective, she is what's known at the "catch-all", not having a specialty like other detectives but working a variety of cases. Her duties entail filing cases, presenting them to court, and following up on cases including contacting victims.  
Being back at UCLA, she really enjoys the diverse population that the campus offers and helping Bruins when they need it most. 
"We have a really unique environment here at UCLA because it's such a melting pot of different types of people from all walks of life," she says. "We are the ones they call, and we are the ones who get to assist them in their time of great need."