As the Special Olympics Summer Games returned to action after a four-year hiatus, so did the Law Enforcement Torch Run, featuring police departments from all across Southern California including the UCLA Police Department.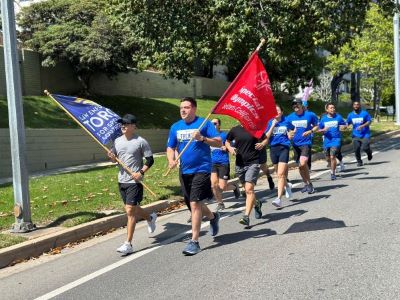 On June 8, 15 UCPD personnel including officers, civilian staff, and Public Safety Aids carried the Flame of Hope as it made its way to the 2023 Summer Games in Long Beach. Starting at The Los Angeles Country Club, where the torch was handed off from the Beverly Hills Police Department, the UCPD team ran a four-mile route back to campus while being accompanied by Special Olympics athlete Marco Martinez. Once back at UCLA, the torch was handed off to the LAPD West Los Angeles Division.
First established in 1981, the Law Enforcement Torch Run helps raise awareness and funds for Special Olympics, as law enforcement members and Special Olympics athletes carry the Flame of Hope to the Opening Ceremony. This year's Special Olympics at Cal State Long Beach was the first Southern California Summer Games since 2019 due to the COVID-19 pandemic.
According to Threat Management Sergeant Fabiola Leon, who organized the UCPD team, they raised around $700 from department staff including the runners themselves. As someone who has participated in every Torch Run that's been held since 2014, she realizes how important it is to carry on such a meaningful tradition.
"It is an opportunity for us to give back to and unite the community in a fun way," said Sergeant Leon. "We are doing our part as Guardians of the Flame."