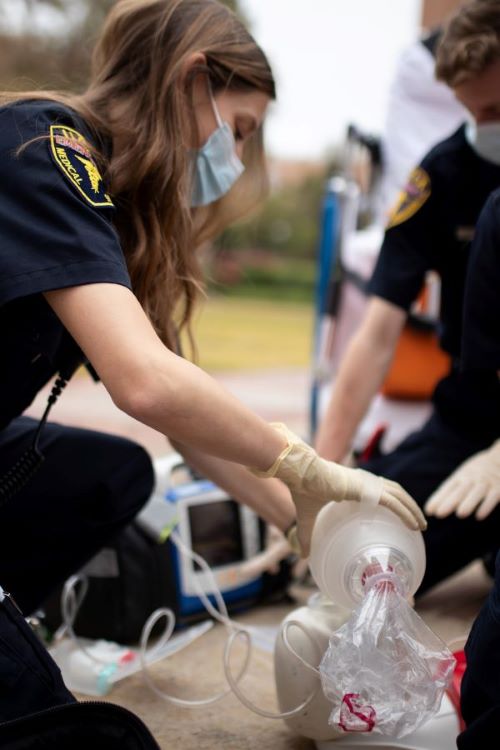 UCLA EMS hires individuals who currently possess an Emergency Medical Technician (EMT) certification in the State of California. EMT Certification in California requires the completion of an approved training program in the state, a passing score on the National Registry EMT Examination, and a local accreditation from any county within the State of California.
EMT training consists of classroom lectures and skills practice, during which you will learn to assess, stabilize, treat and transport patients in need of emergency medical care.
Our colleagues at the UCLA Center for Prehospital Care offer a variety of EMT classes especially convenient for UCLA students. Available courses include:
4-week Accelerated course (on campus)

10-week Hybrid course (on campus & online)
Also offered is an online EMT Preparation course which covers the topics of anatomy, physiology, and medical terminology important to the EMT.  If you need to renew your EMT Certification, there is an EMT Refresher course offered as well.
UCLA students do not receive academic credit for the course from UCLA. Students may be eligible for academic credits from West Los Angeles College (WLAC). Click here for more information.
Note: UCLA EMS does not offer EMT courses. For more information on EMT courses, please contact:
UCLA Center for Prehospital Care
Email: cpc@mednet.ucla.edu | Phone: (310) 267-5959 | Fax: (310) 672-0221
See the EMT Classes at UCLA link in Related Information for website that includes course schedules and enrollment information.

UCLA Emergency Medical Services
Email: ems@ucpd.ucla.edu
Phone: (310) 206-8886
Fax: (310) 206-6812
Mail Code: 136408
Instagram: @uclaems
Address
601 Westwood Plaza
Los Angeles, CA 90095-1364
Business Hours
Monday – Friday 8 a.m. to 5 p.m.
Station Hours
24 hours a day, 7 days a week