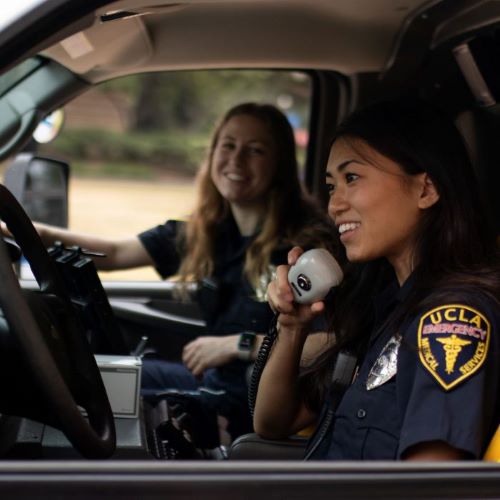 At the discretion of the EMS Manager, UCLA EMS offers ride-alongs to anyone wishing to learn more about the campus ambulance program or emergency medical services in general. These ride-alongs are for observation only. Regardless of medical training, our ride-along participants cannot assist in patient care.
UCLA EMS ride-alongs do not qualify for credit for EMT training programs. The reason is that our call volume does not meet many EMT training program's requirements, and we cannot allow students to play an active role in patient care.
Ride-alongs are typically scheduled for weekdays between 7 a.m. and 7 p.m., however requests for other days and times may be considered on a case-by-case basis. Upon arrival for your ride-along shift, you will be required to sign a liability waiver and agree to a routine wants and warrants check by the on-duty watch commander. All ride-along participants must be 18 years of age or older. Please have your government issued ID with you when you report for your ride-along.
COVID-19 Requirements:
For the safety and well-being of the university community as well as the employees of UCPD and UCLA Emergency Medical Services (UCLA EMS), certain requirements (including COVID-19 requirements) are necessary for all UCLA EMS Ride-Alongs.
Ride-Along participants must be fully vaccinated and up to date, per the current UCLA COVID-19 Vaccine Policy.

Depending on current COVID-19 protocols, face masks may be required to be worn during ride-alongs.
HIPAA Training:
Prior to scheduling a ride-along, individuals must complete HIPAA training, and submit HIPAA training Course Completion and Statement of Confidentiality to the EMS Manager.
Ride-Along Attire:
White colored button-down or polo type shirt (no visible) logo's or lettering.
Black or dark blue pants (no jeans, track/sweat pants or leggings).
Black or brown shoes or boots, or all white tennis shoes.
UCLA EMS Ride-Alongs may be scheduled by emailing the EMS Manager at treynolds@ucpd.ucla.edu

UCLA Emergency Medical Services
Email: ems@ucpd.ucla.edu
Phone: (310) 206-8886
Fax: (310) 206-6812
Mail Code: 136408
Instagram: @uclaems
Address
601 Westwood Plaza
Los Angeles, CA 90095-1364
Business Hours
Monday – Friday 8 a.m. to 5 p.m.
Station Hours
24 hours a day, 7 days a week